Innovation Islands: Mini Grant Opportunity 2022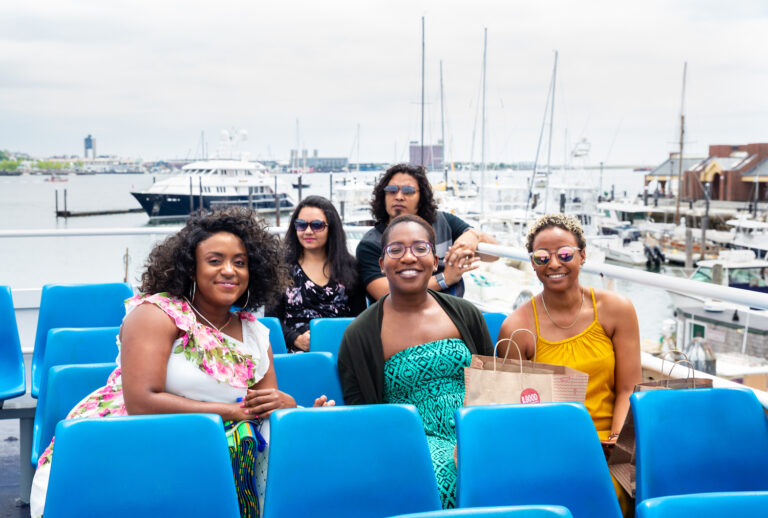 Coming to the Islands Soon?
In recognition of the 25th anniversary of the Boston Harbor Islands as a national park and 50th anniversary as a state park, the Boston Harbor Islands Partnership is planning for a year of robust programming and community engagement. We have awarded 12 local nonprofits micro-grants to support the development of new experiences that meet the unique needs of their community .  These micro-grants will empower and invest in our community partners, amplifying their impact, voices, and presence within our park.
To attend public events, please click on the links below for more information.
2022 Mini-Grant Program recipients:
Southeast Asian Coalition of Central Massachusetts (SEACMA)
SEACMA supports Southeast Asian immigrants, refugees and long-term residents to meet their basic needs, overcome language and cultural barriers, successfully integrate into mainstream society, and become self-sustainable contributors in economic, social, and civic life.
A Trike Called Funk
A Trike Called Funk's seeks to create fun and engaging experiences through music and dance while also supporting local businesses and organizations who are also figuring out new ways to bring people together.
Neighborhood Of Affordable Housing (NOAH)
NOAH is a community development corporation, promotes equity, community cohesion, environmental justice, and economic resiliency. NOAH's mission is to increase access to affordable housing, create social and economic opportunities, and empower residents to be leaders of change.
Eastie's Love Island on Spectacle   I   Saturday July 9   I   1:00 – 4:15pm
Veronica Robles Cultural Center (VROCC)
The Veronica Robles Cultural Center (VROCC) uses the power of arts and culture to teach, inspire, and perpetuate values that bring people together. VROCC helps to raise bilingual loving men and women, and future leaders that appreciate and embrace diversity.
VeronicaRoblesCulturalCenter.org
AfroDesiaCity
AfroDesiaCity is a regional event and consulting company based in Boston, Massachusetts. This organization specializes in live entertainment, professional networking, and other value-added community events.
StiggityStackz Worldwide
StiggityStackz Worldwide's mission is to provide a safe space for bonding in the household by offering dance & film services that involve family participation. Their goal is to preserve and highlight Boston's urban art culture with a specific focus on the urban dance community.
Bay Cove Human Services
Bay Cove Human Services' mission is to provide individualized and compassionate services for people facing the challenges associated with developmental disabilities, mental illness, homelessness, aging-related needs and/or drug and alcohol addiction.
Center Club Family Fest
Mid-Summer Picnic
Family Support Family Fest
Concerned Black Men of Massachusetts (CBMM)
Concerned Black Men of Massachusetts' mission is to provide guidance, support and encouragement to children, while stabilizing families and positioning them to lead healthy, productive lives. CBMM is a committed group of men dedicated to the revitalization of inner city communities across the nation.
Boston Harbor Island Discovery with CBMM
Family Nurturing Center of Massachusetts
Family Nurturing Center offers free programs for families in low income neighborhoods to help parents and caregivers improve their parenting skills and enhance the cognitive and social development of their children. 
Families Exploring & Engaging with the Environment
First Teacher (A project of TSNE Missionworks)
First Teacher is a hands-on neighborhood initiative for parents and caregivers based on the idea that if knowledge, information, and effective strategies are made accessible through a non-judgmental, collaborative approach, parenting practices will improve dramatically, thereby directly supporting toddlers' school readiness prospects.
Girls' LEAP
Girls' LEAP's self-defense and empowerment programs are based on a curriculum that teaches physical safety skills and socio-emotional, reflective activities to develop conflict resolution skills, violence de-escalation, self-esteem and courage.
Teen Mentor Summer Program: Outdoor Enrichment
Latino Outdoors Boston
Latino Outdoors Boston works to inspire, connect, and engage Latino communities in the outdoors and embrace cultura y familia as part of the outdoor narrative, ensuring our history, heritage, and leadership are valued and represented.
Explorando Boston Harbor Islands con Latino Outdoors