One of the largest islands, Peddocks Island is both beautiful, rich in history and off the beaten path. The island once was home to Native Americans, militiamen, prisoners of war, and farmers. Today some private residents still call the island home. Historic structures, such as Fort Andrews, built at the start of the 1900's, along with the restored WWII-era Chapel, reside at this location. Peddocks Island is also rich in biodiversity and is home to wildlife such as deer and turkeys, making it a fun location to explore. Come enjoy a day of hiking, bird watching, or simply settle into one of multiple campsites.
Fort Andrews
Built in 1900, Fort Andrews is an example of a coastal fort from the Endicott Period.
What once served as an active Coast Artillery Post, Fort Andrews now is a quiet reminder of things past. The fort was a sub-post of Fort Strong on Long Island and was operated by hundreds of soldiers controlling the southern approaches to Boston and Quincy Bay. It once held 30 structures in the 1920s to house its many military residents and had one of the Army's earliest radio transmitting stations. The WWII fort also held Italian prisoners of war who were later put to work as paid Italian Service Units. In 1946 Fort Andrews was decommissioned and was purchased with Peddocks Island by the Commonwealth of Massachusetts in the 1970s.
Resources
| Document Title | Description | Download |
| --- | --- | --- |
| Peddocks Island Junior Ranger Booklet | Explore the island, complete activities and earn an official Junior Ranger badge! | Download |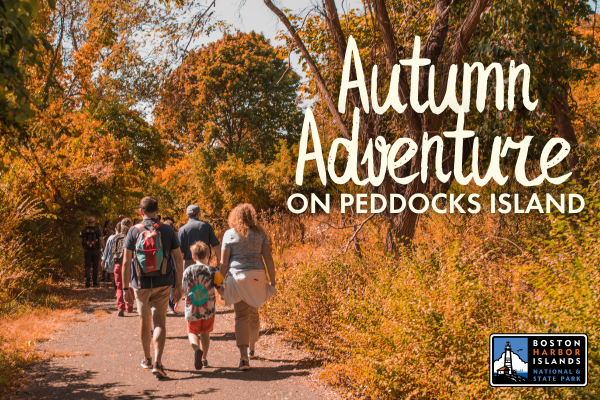 Oct07
Celebrate the season with a special fall exploration of Peddocks – the last chance to visit the Island until next year!
View Event Details