Summer Solstice Celebration at World's End, Saturday, June 25, 2022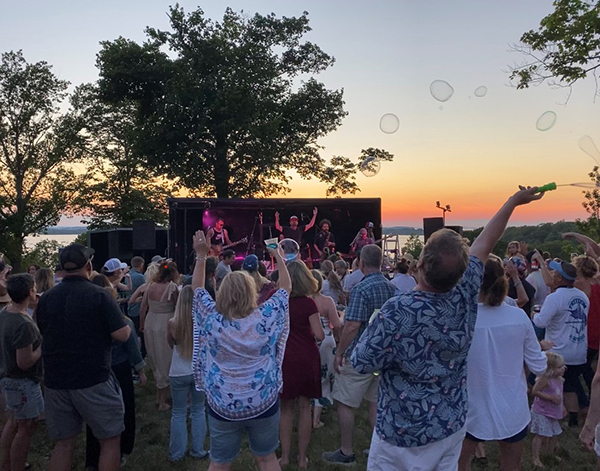 Image Credit: Anne Smith-White
Written by: Anne Smith-White, The Trustees, South Shore Portfolio Director
World's End in Hingham is a remarkable property. Designed by Frederick Law Olmstead in 1890, its four and a half miles of tree-lined carriage paths and footpaths connect four spoon-shaped hills, called drumlins, offering dramatic views of the Weir River, Hingham Harbor, and the Boston Harbor Islands. The rolling landscape encompasses saltwater marshes, meadows, woodlands, and granite ledges covered with red cedars and blueberry thickets. 
This place is beautiful at any time of year, but especially so in early summer, when from the grassy field at the top of Planter's Hill visitors can sit in the shade of a grove of old-growth oak trees and watch the sun set directly over the Boston skyline. We share this beauty by offering a Solstice Celebration in late June featuring live music, food and beer trucks, and an opportunity to drive out onto the drumlins and enjoy the best sunset on the South Shore.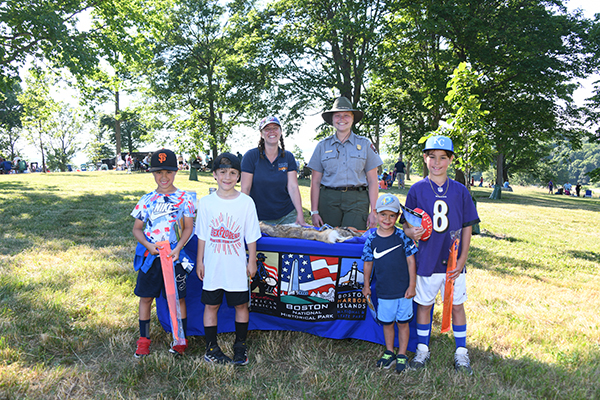 Boston Habor Now and National Parks of Boston crew taken by: Karen Wong
Playing a unique mix of Indie, Rock, Reggae, and Soul, local favorite, The Aldous Collins Band, has been a fixture at the Solstice Celebration for the last ten years. This year, they were joined by opening act Jay Psaros. Guests, knowing they will be dancing all afternoon, fortify themselves with snacks from three food trucks, beer from local breweries, and ice cream from Hornstra dairy, whose cows are fed hay harvested on World's End every summer.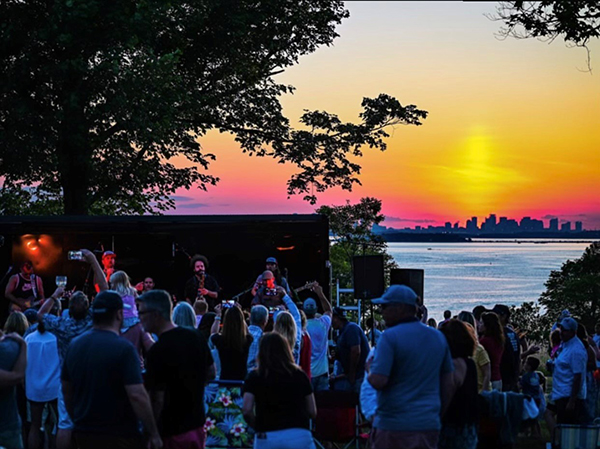 The Aldous Collins Band and the sunset taken by: The Wandering Stage
This year, the party took place on Saturday, June 25. It was especially festive as we celebrated 50 years since the Boston Harbor Islands entered the State Park system, and 25 years since the establishment of the Boston Harbor Islands National and State Park. World's End is one of 34 islands and peninsulas that make up the National and State Park system, one of the largest recreational spaces in Eastern Massachusetts. To mark this occasion, representatives from Boston Harbor Now and National Parks of Boston joined us, entertaining crowds of young visitors with free kites and Junior Ranger booklets and the pelt of a coyote.