History of Makeup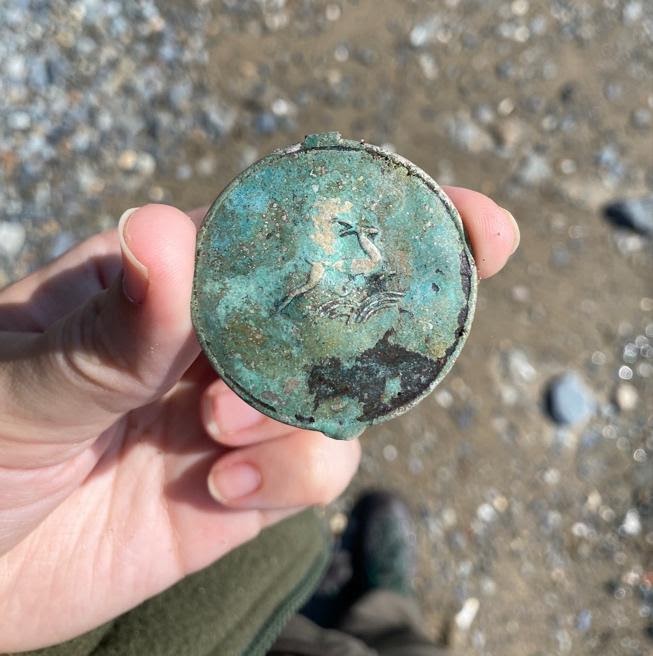 Image Credit: NPS/Parnell
Image Description: The image shows a teal, circular object that appears to be very weathered. It has a logo in the middle that appears to be a jumping deer. It is held between a thumb and forefinger, with a rocky beach visible in the background.
Roving the beaches of Spectacle Island, you are likely to observe tons of sea shells and rocks, and probably your fair share of sea glass and sea ceramics. But if you're lucky and have a keen eye, you may be able to see other types of historic and archaeological artifacts. One of our park rangers photographed this unusual object peeking out of the sand along the tide line this summer. It is about two inches in diameter and is a bright teal color that may reflect the object's original color, or could be the result of metal tarnishing over time. In the middle is a small logo that appears to be a deer or gazelle leaping over rolling hills. Our rangers had a fun time trying to determine what this mystery object could be. After much online digging, and several dead-end searches, we think we've identified this piece of history! This object was likely the lid to a World War Two-era compact make-up container, produced by the American company House of Tre-Jur. 
For many years and in many cultures, makeup was worn by both men and women. But by the 1800s it fell out of favor in American society.1 Polite and respectable women were expected to be beautiful, while appearing 'natural.' To achieve this, many women did still wear makeup, but only discretely. It wasn't until the 1920s that wearing makeup became widely acceptable. This shift was thanks in part to the rise of the film industry. Audiences would often model their styles and appearances after those of their on-screen idols. Over the next two decades, more and more women entered the workforce, which gave them greater financial independence than ever before. With their own money, many women began to purchase and wear makeup more regularly. In addition, war propaganda targeted towards women often featured images of ladies in bold makeup, including red lips and rosy cheeks. In this way, makeup became intrinsically linked with femininity and patriotism for American women.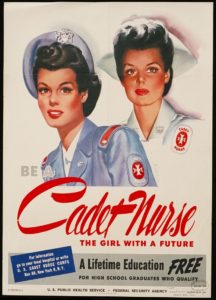 Image Credit: Government & Geographic Information Collection, Northwestern University Libraries
Image Description: A World War II poster shows two women in nurse uniforms, wearing bold makeup and red lipstick. The red text reads: "Be a Cadet Nurse—The Girl with a Future," and below in a grey box:" A Lifetime Education FREE for High School Graduates who Qualify"
In addition to creating a market demand for cosmetic products in general, the busy and independent lifestyles of 1930s and '40s women also established a need for convenience and portability in makeup. There was a high demand for small, portable makeup containers that could easily fit in purses. Tre-Jur catered specifically to this demand, prioritizing the development of a variety of cases and containers rather than innovating the make-up that went inside. In fact, Tre-Jur likely helped to popularize the term 'compact' as a reference to the container rather than the powdered makeup itself.3 
The company's primary logo throughout the 1920s was a girl in a French-style hoop skirt and bonnet, but copyright issues and a general shift in popularity towards more art-deco iconography led to the company utilizing multiple different logos and appearances throughout the 1930s and into the 1950s. The leaping deer was one of these transitional logos, first appearing in 1932. Our Spectacle Island discovery does not totally match images of the 1932 product, likely indicating that it is a slightly later model.4 These products were offered in a variety of colors, including red and teal—which explains why our lid is such a vibrant color. The cases would have held a mirror on the back of the lid, and contained either compact or loose powder.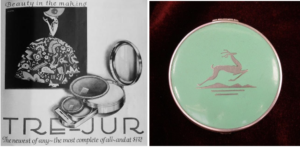 Image 1 Credit: Vogue November 1, 1923, as referenced by user CompactStory on Blogspot.com
Image 2 Credit: User CompactStory on Blogspot.com
Image Description: (Left) A black and white magazine ad shows an open compact makeup case above the words "Tre-Jur—The newest of any – the most complete of all – and at $1.25." In the upper left hand corner is the Tre-Jur logo of a girl in profile, wearing a patterned hoop skirt and bonnet, and looking into a compact mirror. Above are the words "Beauty in the making,"
 (Right) The image shows a circular compact. The color is a bright teal or turquoise, with a silver edge. The logo of a leaping deer in the middle is silver.
It is interesting to speculate about who owned this compact, and how it ended up on Spectacle Island. Did it fall out of a pocket or a purse as someone sailed through the harbor? Or, like so many other things on Spectacle Island, had it been destined for the dump located within the harbor—thrown away once it was no longer useful to its owner–only to tumble into the cold Atlantic before reaching its destination? There is no way to know for sure. Nevertheless, we recognize that artifacts like this preserve and tell the story of Boston Harbor Island's history. Through these objects, we are able to interpret some of the practices and values of individuals within Boston society whose lives and identities otherwise may never have been noted in history books. This is why it is so important for any objects found on the islands to remain there, so that these pieces of history and their stories are not lost forever.
Today, makeup products tell more diverse stories than ever before. While still targeted primarily towards people who identify as women, major companies like MAC, NARS, and Covergirl have also begun marketing their products as more gender-neutral  and have begun to offer a more inclusive range of colors. This movement towards greater inclusivity in the cosmetics industry has largely been led by woman-owned businesses like Rhianna's company, Fenty Beauty. Makeup is recognized as a form of art, which can be executed and appreciated by anyone. Where makeup once represented patriotism and femininity, it now represents individuality and expression. If you choose to wear makeup, what does it mean to you?
Government & Geographic Information Collection, Northwestern University Libraries. "Be a cadet nurse : the girl with a future", World War II Poster Collection. Accessed Tue Nov 03 2020. https://dc.library.northwestern.edu/items/4f2ff447-b0e9-49eb-b7e0-388fe118d251 
"The History of Tre-Jur – Part 1 – The Making of a Brand." Collecting Vintage Compacts. Accessed October 19, 2020. http://collectingvintagecompacts.blogspot.com/2012/04/tre-jur-part-1-making-of-brand.html.
"The History of Tre-Jur – Part 3 – Diversity and The Great Depression." Collecting Vintage Compacts. Accessed October 19, 2020. http://collectingvintagecompacts.blogspot.com/2013/07/tre-jur-part-3-diversity-and-great.html.
"Make-Up." Smithsonian Institution. Accessed October 19, 2020. https://www.si.edu/spotlight/health-hygiene-and-beauty/make-up.