Disappearing Islands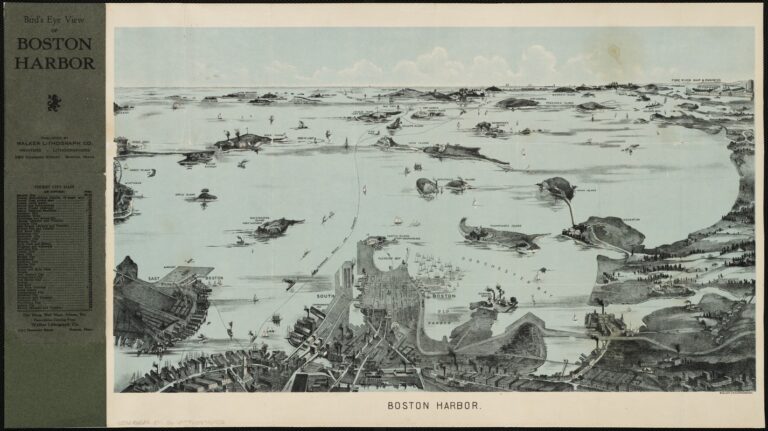 What's in a name? And what happens when the name of a place changes? While William Shakespeare may have waxed poetic about roses and the sun, locations are also areas where the names may change. Some of the islands and peninsulas that make up the Boston Harbor Islands National and State Park have experienced a name change or two since the islands were "discovered" by colonists. In fact, some islands have completely disappeared as they were incorporated into the Boston city landscape.
Does anyone these days remember Governor's Island? It's possible Bostonians today do not because this former home to the first governor of the state sits under Logan International Airport. Originally called Conant's Island for a citizen of Hull, the island was granted to John Winthrop in 1632. The formerly 70 acre island, once filled with orchards and a fort, was covered in 1946 for expansion of the airport, and it was not the only one. Part of the more colorful history of Governor's Island is the rumor that famous pirate Captain Kidd buried his treasure there. The treasure was never rediscovered, so who knows if something worth its weight in gold rests under the concrete.
Two other islands , Bird and Apple Islands also rest under runways. Bird Island, which eventually reduced to tidal flats and covered at high tide, has a less tasteful history. The city used to display the bodies of dead pirates there, as a warning to others about what would happen should they pirate and be caught in the harbor. Among Apple Island's different names were Belle Island and Hutchinson's Island before it was sold to the City of Boston and flattened to enlarge the airport.
One island that is slowly disappearing is Nix's Mate. Boston Harbor Island legend attributes the island's continuous shrinking to a curse placed on it by a condemned sailor. The sailor was executed for the murder of his captain, one supposedly named a Captain Nix. Maps dating back to 1775 show Nixes Mate spelled as Nick's Mate, whereas more "recent" maps display the name as it is known now. Whether or not the "curse" has caused the island to recede, driving winds and consistent waves have also played a large role in the erosion of the once 12 acre island.
Another island that has "disappeared" is Noddle's Island, or Noodles Island. Now part of East Boston, Noddle's Island was the site of a skirmish during the Revolutionary War where more than 300 patriots prevented the British from removing livestock to aid with their supplies. In fact, the Americans forced the British to abandon their ship! Shipbuilding became a huge industry for Boston during the 1800's and many ships were constructed near Noddle's.
This sets the sails for the islands that are still present, but whose names have changed throughout the years. What causes these name changes? Ownership of the islands for one thing. This was particularly prevalent during colonial and Revolutionary times, when those who purchased the islands renamed them, usually after themselves. Another cause for potential name alterations is the phonetic spelling and then interpretation of the phonetics. As an example, Bumpkin sounds similar to Pumpkin, Bunkin and Bomkins. How those names combined or morphed to settle on Bumpkin for the island's name is unknown.
Peddocks Island is yet another that has seen different iterations of its name throughout the centuries. One of the largest islands in the harbor, according to the Leventhal Map Collection from the Boston Public Library, previous spellings of the name were Potock's, Puttock, Pethick's, Paddocks, Pettucks and Petticks to list a few. The island has a long history as a host to fishermen, particularly those of Portuguese descent . It also has remnants of Fort Andrew, which was utilized from the early 1900's to the end of World War II. It's unclear how Peddocks got its name originally, no matter how it is spelled.
One of more "famous" set of islands in the Harbor are the Brewster's. Named to honor Elder William Brewster, who was the spiritual leader of the Pilgrims, and his many children, the spelling of these island's name has morphed as well. Little Brewster was originally called Beacon Island and Lighthouse Island, presumably after Boston Lighthouse Station was constructed in 1716. When the name changed to Brewster is unknown, but there were other phonetic spellings of the name like "Bruster."
An island that has experienced a change of identity more recently is Spinnaker Island. Although not part of Boston Harbor Islands National and State Park, Spinnaker was sold to private developers in the 1980s. It was previously known as one of the Hog Islands, with Fort Duvall located there. The other Hog Island has changed names a few times over the years, also being known as Susanna Island and Breed's Islands. This Hog Island (why cartographers and colonialists labelled two such islands the same may be lost to history) eventually became Orient Heights, a neighborhood in East Boston.
The names and spelling of island names may have changed, but 25 years ago the islands and peninsulas in the harbor underwent one major relabel. These landmasses became a cohesive unit as the Boston Harbor Islands National and State Park. As the Park celebrates this milestone anniversary, it is important to remember the past, how the islands have grown, and developed, while others have vanished. This is vital to the park so it can be preserved, maintained and beloved for future generations.
"Boston Harbor, Massachusetts."  Map.  1770.  Norman B. Leventhal Map & Education Center,  https://collections.leventhalmap.org/search/commonwealth:q524n765c (accessed September 2, 2021).
Boston Landmarks Commission. (1994). East Boston: Exploring Boston's Neighborhoods. Retrieved September 2, 2021, from https://www.cityofboston.gov/images_documents/East_Boston_brochure_tcm3-19117.pdf.
Governors island. Friends of the Boston Harbor Islands Established 1979. (n.d.). Retrieved August 29, 2021, from http://www.fbhi.org/governors-island.html.
Kales, David, The Boston Harbor Islands: A History of an Urban Wilderness. The History Press, 2007.
Schorow, S. (2008). East of Boston: Notes from the Harbor Islands. History Press.
Seller, John, fl. 1658-1698,  and Southack, Cyprian. "Boston Harbour in New England."  Map.  1689.  Norman B. Leventhal Map & Education Center,  https://collections.leventhalmap.org/search/commonwealth:3f462t01t (accessed September 2, 2021).
Snow, E. Rowe. (1935). The Islands of Boston Harbor: Their History and Romance, 1626-1935. Andover, Mass.: Andover Press.
U.S. Department of the Interior. (n.d.). Island facts: What's in a name? National Parks Service. Retrieved September 4, 2021, from https://www.nps.gov/boha/learn/historyculture/island-names.htm.
merge Bird and Apple this with Nixes Mate since they're both about pirates, but can talk about Deer, Castle and the Logan expansion here [MA1]
The cottages are of the Portuguese decendents  [MA2]
perfect way to wrap this up! well done!  [CH3]