The Flying Santa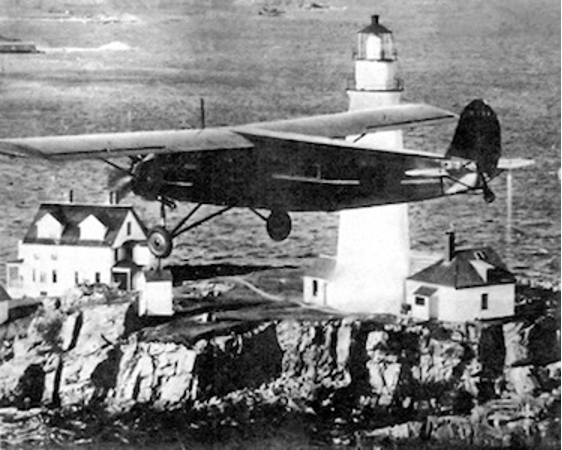 Image Credit: Friends of Flying Santa
Image Description: Black and white photograph of the Flying Santa. Boston Light is in the background
This year marks the 92nd anniversary of the Flying Santa. This tradition began in 1929, when Maine floatplane pilot, Captain William Wincapaw wanted to show his appreciation for all the work lighthouse keepers have done with ensuring safe travels in the waters.
Before the tradition began, Wincapaw helped remote coastal communities by flying mail, medicine, and other supplies as well as flying sick or injured people to safety. As radar had not been invented yet, Wincapaw only means of navigations were the lighthouse beacons along the coast. The beams of the lighthouses were especially helpful in stormy weather for Wincapaw, and as he continued his work as a pilot, he grew more appreciative of the lighthouse keepers stationed along the Atlantic coast.
Wincapaw knew that the life of a lighthouse keeper was isolating, so on calmer days he would fly to local lighthouse stations to visit. However, he felt that something more should be done to show his appreciation for all serving at these lighthouse stations. On December 25th, 1929, Wincapaw loaded his plane with dozens of packages containing items such as newspapers, candy, and coffee, and dropped them off to various lighthouse stations along the coast of Maine. This simple gesture was well received as it made many lighthouse keepers feel remembered for the work they have done. In later years, the tradition expanded to many other states along the Atlantic Coast including Massachusetts.
In 1934, a few years after the Wincapaw family moved to Winthrop, Massachusetts, William Wincapaw's son, Bill, received his pilot license. Around the same time, Bill was introduced to Boston's beloved Edward Rowe Snow, who was a teacher at Winthrop High School at that time. Bill later introduced Snow to his father and just a few years later, William Wincapaw asked Snow to help with the Flying Santa. Snow enthusiastically agreed and in later years, carried on the tradition.
During World War II, the Flying Santa tradition was put to a halt from 1942-1945 as both of the Wincapaws were serving in the Navy and Snow was serving in North Africa. Towards the end of World War II, the tradition of sending gifts to lighthouse families continued. Although Edward Rowe Snow retired in 1981, the tradition of the Flying Santa continues today.
Bibliography
How Flying Santa Saw New England Lighthouses in 1936 (From the Sky, Of Course) – New England Historical Society