Fishing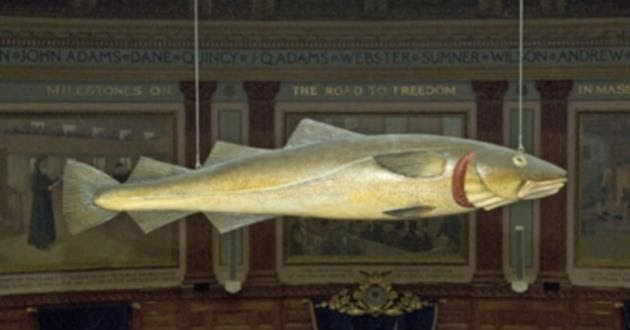 The Boston Harbor Islands have been shaped by many factors over the years. They have physically been shaped by glacial movement, erosion, landfill, agriculture, and the construction of human structures, settlements, and forts. In a way, the islands, as well as the city of Boston, have also been shaped by fish. No, fish aren't out there with shovels changing the actual landscape of the area; however, much of the social and economic growth that Boston and the harbor have experienced throughout the centuries can be traced back to fish.
Indigenous Peoples have lived on and near the Boston Harbor for at least 10,000 years. Groups that are known to have direct connections with the Boston Harbor Islands include the the Massachusett Tribe at Ponkapoag; the Mashpee Wampanoag Tribe; Wampanoag Tribe of Gay Head Aquinnah; Narragansett Indian Tribal Nation, Mohegan Tribe; Penobscot Nation; Mashantucket Pequot Tribal Nation; Chappaquiddick Tribe of the Wampanog Indian Nation; Chaubunagungamaug Band of the Nipmuck Nation, Webster/Dudley; Herring Pond Wampanoag Tribe; Nipmuc Nation (Hassanamisco Band); Pacasset Wampanoag Tribe; and Seaconke Wampanoag Tribe.. Thanks to archaeological research and the oral histories of local Indigenous Peoples, we know that the Harbor Islands were primarily used as a seasonal location to—among other things—catch, prepare, and eat fish. Cod, in particular, made up a significant portion of the diet. They could have been caught offshore using stone tools like harpoons, awls, and spears, or closer to land using fish weirs.
Fish weirs—woven branches placed in tidal flats—were used by Indigenous Peoples in the Boston area between 3700 and 5300 years ago to catch fish. One notable fish weir was uncovered along Boyleston Street in Boston's Back Bay area in 1939 during construction of the Green Line subway tunnels. Archaeologists hypothesize that fish weirs were also used throughout the Boston Harbor Islands, specifically on low tidal flats between drumlins.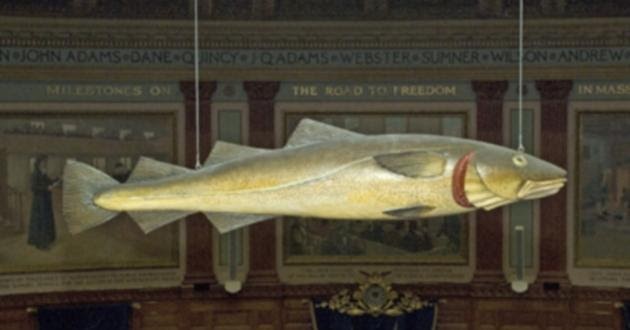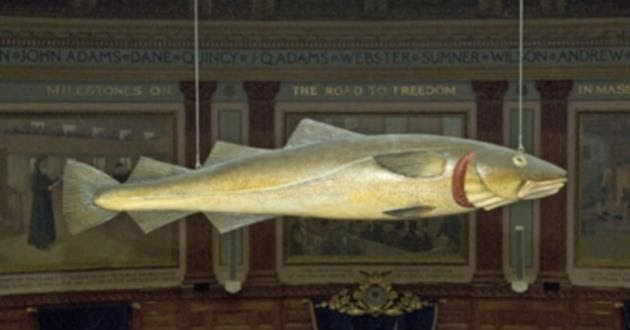 Sacred Cod. Photo courtesy: New England Historical Society
Throughout the 17th and early 18th century, European Colonists and Puritans rapidly arrived and settled in New England, hoping to establish successful farms. While some forms of agriculture have historically been successful in this area, the newcomers had much greater success developing a fishing industry, leading to the creation of trade routes to the south. Cod, in particular, was essential to the industry, trade, and growth of the city of Boston, as well as the Commonwealth of Massachusetts. In recognition of the importance of this fish, a nearly five-foot long wooden effigy of a codfish hangs in the House of Representatives chamber of the Massachusetts State House. The tradition of including this funny fish figure in all government proceedings is said to date back to before the American Revolution. Over the years the fish has come to be known fondly as "the Sacred Cod."
In addition to fishing cod, whaling also became an integral part of the early Massachusetts fishing industry. By the mid-1800s, the southern Massachusetts town of New Bedford had become the capitol of the whaling industry in America. It was home to dozens of large ships, operated by crews from diverse countries, races, ranks, and backgrounds. In fact, new recruits were often picked up on entirely different continents as the whaling vessels stopped at supply ports before continuing their voyages. This was one of the ways in which many people from the Azores islands in Portugal found their way to New England and to Boston.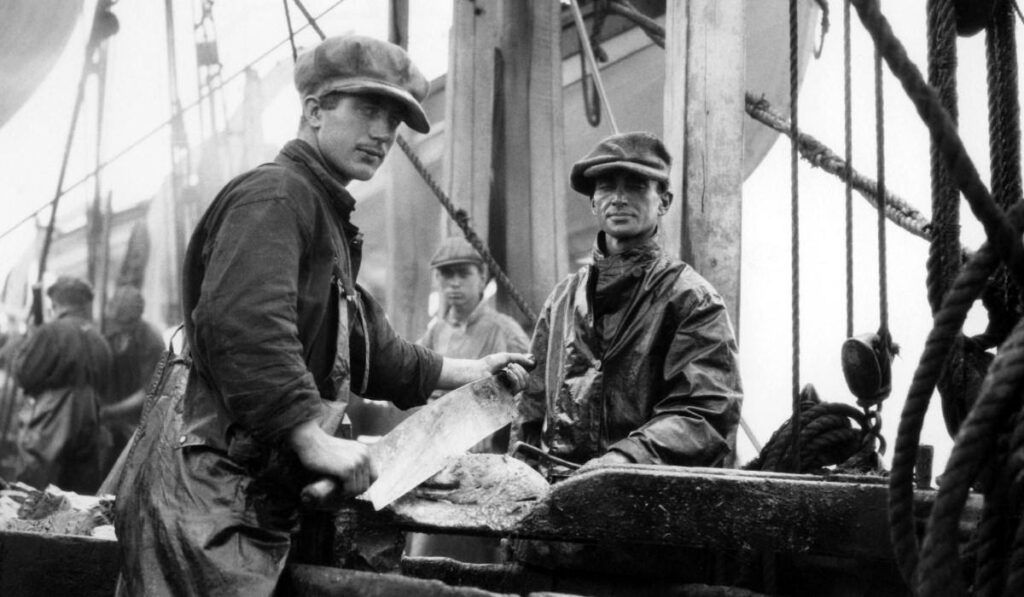 Two foremast-hands mince whale blubber (1925). Photo courtesy: New Bedford Whaling Museum
In 1887, the City of Boston began construction on a new hospital on Long Island. The development necessitated that the people currently living on the island, primarily Portuguese fishers and their families, relocate. Many of these families chose to move to nearby Peddocks Island. But rather than starting entirely from scratch in a new location, they lifted their houses—fully intact—from Long Island and used empty barrels to float them across the harbor to their new address on the East Head of Peddocks.
With the construction of Fort Andrews in the early 1900s, the fishing community was once again forced to pick up and move, though this time most relocated to the Middle Head of Peddocks, rather than moving to an entirely different island. By 1915, this community solidified and merged with summer cottage owners on Peddocks, forming a row of houses that came to be known as 'Crab Alley.' Several of the cottages still exist on Peddocks Island today, representing a vibrancy of past and present island life.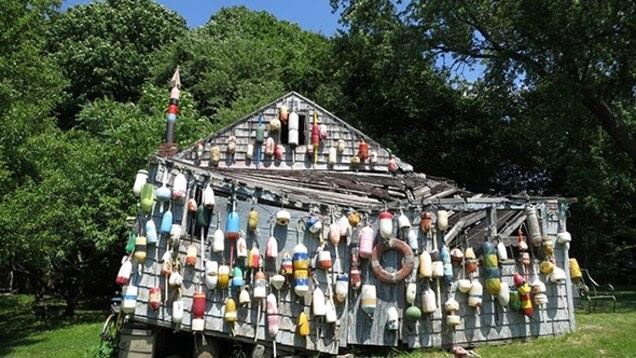 A Crab Alley cottage covered in buoys. Photo courtesy: National Geographic
Today, fishing is still popular throughout Boston Harbor. Castle Island, Revere Beach, and Squantum Point Park are just a few of the many fishing hot spots! In June of 2021, a brand new fishing pier was opened at Deer Island. So in a way, fishing is still shaping the harbor today! Most people who fish in the harbor today use saltwater rigs, and those who are 16 years or older have fishing licenses. For more information on recreational fishing in Massachusetts, visit Recreational saltwater fishing regulations | Mass.gov and stay tuned for future fishing videos and activities with Boston Harbor Islands National and State Park!
Works Cited
"History of Fish Weirs." Fishweir. Accessed July 15, 2021. https://www.fishweir.org/copy-of-history.
Kales, D. The Boston Harbor Islands: A History of Urban Wilderness. Charleston, SC. The History Press, 2007.
"Life Onboard a Whaleship." National Parks Service. Accessed July 15, 2021. https://www.nps.gov/nebe/learn/historyculture/whaleship.htm.
"Portuguese." Global Boston. Accessed July 15, 2021. https://globalboston.bc.edu/index.php/home/ethnic-groups/portuguese-2/.
Stanton, C. Supplement to "A Place of Quiet Adventure: An Ethnographic Study of the Peddocks Islands Cottages" Thumbnail Histories of Individual Cottages. Boston, MA. National Park Service, 2016.
Sweetser, M.F.. King's Handbook of Boston Harbor. New Hampshire: Friends of the Boston Harbor Islands Inc., 2016.