Remembering EO Wilson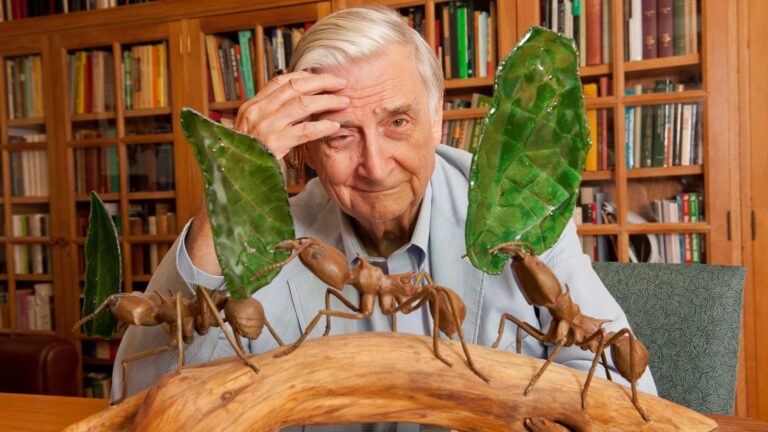 Image courtesy of Rick Friedman / Corbis via Getty Images
Dr. E.O. Wilson, leading researcher in the sociobiology of ants, poses for a picture behind an enlarged model of three ants carrying leaves across a stick.
"The exact perception of wilderness is a matter of scale."
-E.O. Wilson
In 2011, renowned biologist E.O. Wilson described the Boston Harbor Islands as a 'micro-wilderness–' a place that may not be expansive in size, and may appear different from an imagined wilderness, but that nevertheless sustains an incredible degree of biodiversity. Oftentimes, micro-wildernesses can be found just below our feet, in tall grass or piles of leaves, along the bark of a tree or in a patch of dirt just a few miles from the city. There was no greater advocate for the conservation and study of these often-overlooked communities than E.O. Wilson.
Throughout his lifalse, E.O. Wilson cultivated an appreciation for nature on a small scale. Born in Alabama in 1921, Wilson spent his childhood exploring the outdoors. A fishing accident when he was seven years old led to Wilson being blind in one eye. Though he eventually regained some sight in the eye, his depth perception was forever altered, and so was his relationship with nature. From that point on, Wilson found that he was better able to see "the little things," and found incredible beauty in the tiny lives and details of insects, particularly ants.
Wilson's research on the world of insects was truly groundbreaking. Fascinated by the sociality of organisms, Wilson became the first to identify the pheromonal communication patterns of ant communities. His interest in communication and group behavior in insects led him to recognize and question similarities seen within human societies. Wilson theorized that the social behaviors and roles of humans are at least to some degree the result of evolution and biology.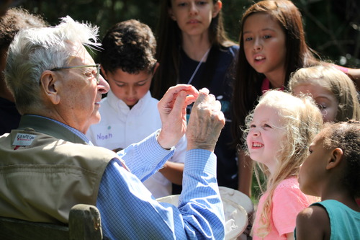 Image courtesy of the National Park Service
Dr. E.O. Wilson engages children in a discussion of biodiversity.
For 46 years of his career, Wilson served as a professor at Harvard University, sharing his knowledge of the natural word with countless students and colleagues, all the while exploring micro-wildernesses found in and around Boston, and the world. He visited the Boston Harbor Islands several times over the past two decades, often speaking with park staff about his work and his perception of the islands. In one recorded interview, he even mentioned that he had a familial connection to the islands—his great-grandfather had been a confederate prisoner at Fort Warren on Georges Island! Along with that look to the past, Wilson also gave his perspective on the present and future of the harbor islands, describing the importance of continuing to monitor the everchanging life on the islands. In his words, "…this is a living laboratory that has begun in the harbor islands…we have the advantage of studying them through years and making scientific discoveries of an important magnitude, including finding out a lot of things we didn't dream could happen."
E.O. Wilson passed away on December 26, 2021, at the age of 92. Boston Harbor Islands National and State Park seeks to continue his mission of preserving, appreciating, and learning about our wildernesses—no matter the scale.
References
Boston Harbor Islands. YouTube. July 23, 2013. Accessed January 13, 2022. https://www.youtube.com/watch?v=Xg1xbEmaiVg.
"E.O. Wilson Video Series (U.S. National Park Service)." National Parks Service. Accessed January 13, 2022. https://www.nps.gov/nature/eowilson.htm?fbclid=IwAR23SM0OCkQKfgUix9QonSHHUMuzxkrqKn-BM6BeONqwkx9D6kl-nrIMsFs.
Gorman, James. "INTO THE WOODS WITH: EDWARD O. WILSON; A Wild, Fearsome World Under Each Fallen Leaf." The New York Times, September 24, 2002. Accessed January 06, 2022. https://www.nytimes.com/2002/09/24/science/into-the-woods-with-edward-o-wilson-a-wild-fearsome-world-under-each-fallen-leaf.html.
He, Felicia. "E.O. Wilson, Renowned Harvard Biologist Known as 'Darwin's Natural Heir,' Dies at 92: News: The Harvard Crimson." News | The Harvard Crimson. December 31, 2021. Accessed January 10, 2022. https://www.thecrimson.com/article/2021/12/31/edward-wilson-obit/.
Schultz, Shelley. "E.O. Wilson – Of Ants and Men." PBS. September 30, 2015. Accessed January 07, 2022. https://www.pbs.org/video/eo-wilson-ants-and-men-full-episode/.