Cultivating Resilience
Photo Credit: NPS, Lampley
A park staff member wielding a backpack sprayer within the planting site on Grape Island. Inscribed along the side: 'water only'.  Two watering bag assemblies can be seen above the goldenrod facing Hingham to the West.
While islands like Grape and Thompson were mostly empty of visitors this year, members of the Natural Resource Partnerships team with the Boston Harbor Islands were still hard at work this summer caring for the landscape and its biodiversity. For the past several years, the team has undertaken extensive habitat restoration to promote native biodiversity on the islands, specifically attending to sites on Thompson and Grape Islands. Despite this year's particular challenges in safely assembling volunteers, its heat, aridity, and despite the long span of preparation for the growing season that was subsumed in the early chaos of the pandemic—months of important ground work lost—a slow, sturdy path of healing has made its course.
On Thompson, the Western edge of the island's long neck was until recently dominated by the highly invasive reed, Phragmites australis, and the deceptively troublesome purple loosestrife, Lythrum salicaria. Phragmites is a salt-phobic wetland plant that largely propagates through runners in its root system, and they along with loosestrife, (who also detests salt,) commonly overtake habitat that was once tidally influenced. Estuaries or salt marshes blocked off from tidal flow by culverts, pavement, or various developments, prove a lush frontier for these species. It is in our interest as a park to combat the unchecked advance of such plants, and especially to do so in the fresh water wetlands of the harbor islands, which are an exceedingly rare and special feature of the park. And so to walk the Western edge of Thompson Island now, the visitor will find wide swaths of clear wetland stubbled with the trimmed stalks of phragmites that our team have cut back. And in their place, marked with pugnacious orange flags, sprout young native plants. Swamp Milkweed (Asclepias incarnata), Allegheny Monkeyflower (Mimulus ringens), Spotted Joe-Pye Weed (Eutrochium maculatum), and a whole assortment of grasses, sedges, and shrubs.
Our plan had been to plant these in mid-Spring, when the cooler temperatures and lingering rains would have given these sensitive young sprouts a boost. Yet the public health crisis spared no one in its logistical complications, not even these tiny wetland plants. Their planting was deferred for days and then weeks, and by the time we had plans in place to make our work feasible, the heat bore down on them horribly. It seemed an impossible aspiration for any of the seedlings we tucked into the ground to live more than a few weeks. Yet donning backpack water sprayers and wielding buckets our team has attentively watered each of them over the past few months, to the point that now, many of them have nearly doubled in size, boasting new growth, flowers, and grass-spikes. In a global pandemic, it has been a welcome sign of recovery, and renewal.
South and East, off the port in Hingham, Grape Island has also seen a quieter year. Approaching the dock, the visitor is greeted by a long sloping field that stretches between thick vegetative cover. Its tall standing debris, the steely, branchless stems of forty-foot trees, watch us return and watch us go like ragged sentinels. For several acres the dense tangle of oriental bittersweet, Celastrus orbiculatus, and common buckthorn, Rhamnus cathartica, abate and various native flowers rise in their place. At various points in the Summer this field is dotted in blue vervain, Vervena hastata; in the purple-white flowers of milkweed, Asclepia syriaca; and the soft fronds of goldenrod, Solidago rugosa—the result of years of devoted work by hundreds of volunteers and staff untangling the invasive vines. Pushing past thistle we planted shrubs this Summer such as highbush blueberry, Vaccinium corymbosum, Serviceberry, Amelanchier canadensis (also known as shadbush and chuckleberry), winged sumac, Rhus copallinum, and Mapleleaf viburnum, Viburnum acerifolium. Their early leaves shriveled and fell, but after weeks of care, most all of the new plants on Grape Island have issued new growth—a positive sign that they are settling in place.
It doesn't seem like much in the moment, hauling buckets of water all over the surface of Grape Island, (which has no source of fresh water, and hence must be saturated with buckets of the stuff that we fill by hand at the DCR pier in Hingham.) And the fruits of the labor seem small: at first. But given the challenges of this year, and the host of bodily threats faced by the islands native plant communities, and even the new threats that face our park staff as we have had to navigate this strange new world in our own way—even the slightest act of healing makes a difference. It is something of a salve, and a consolation, to know that working together, we can still yearn and grow ever in the face of one of the greatest perils of our time.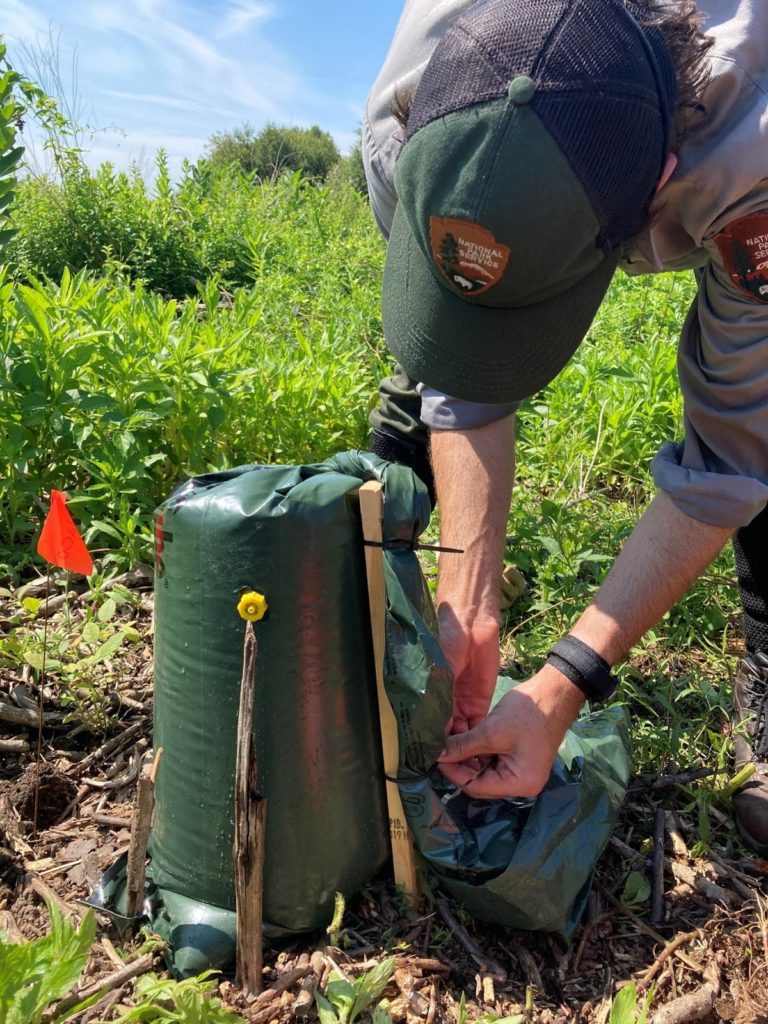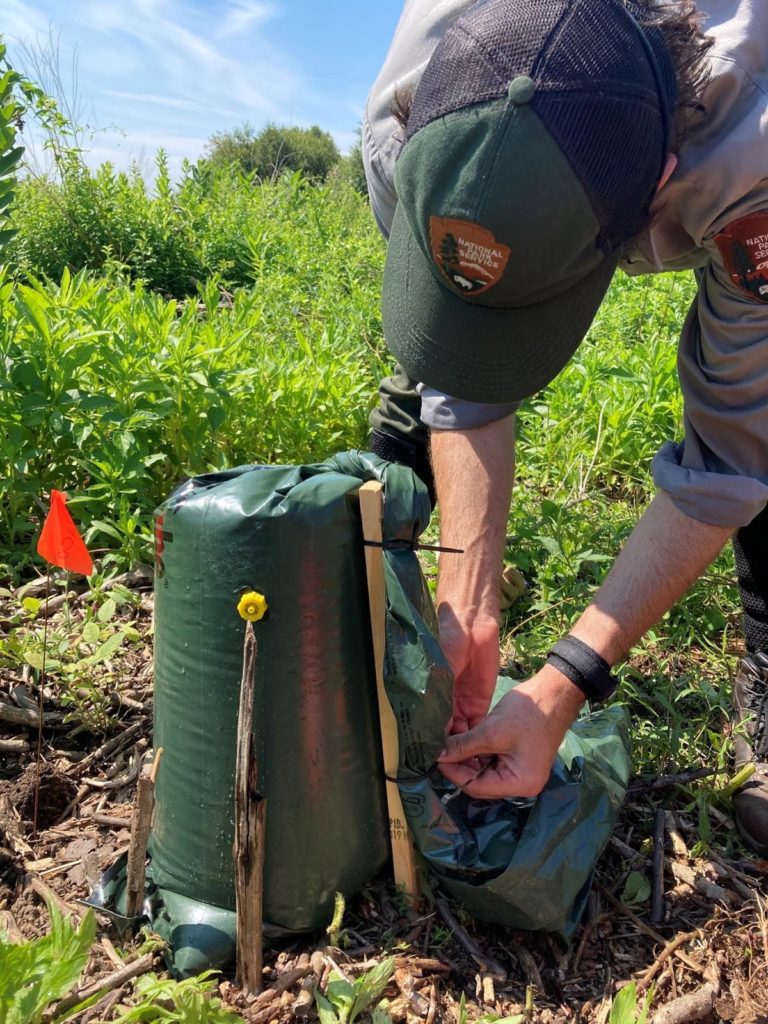 One of several desperate attempts to provide a steady stream of water to our planting sites on Grape Island. A park staff member assembles a green plastic watering bag designed to provide a slow drip to the highbush blueberry seedling marked left by an orange flag.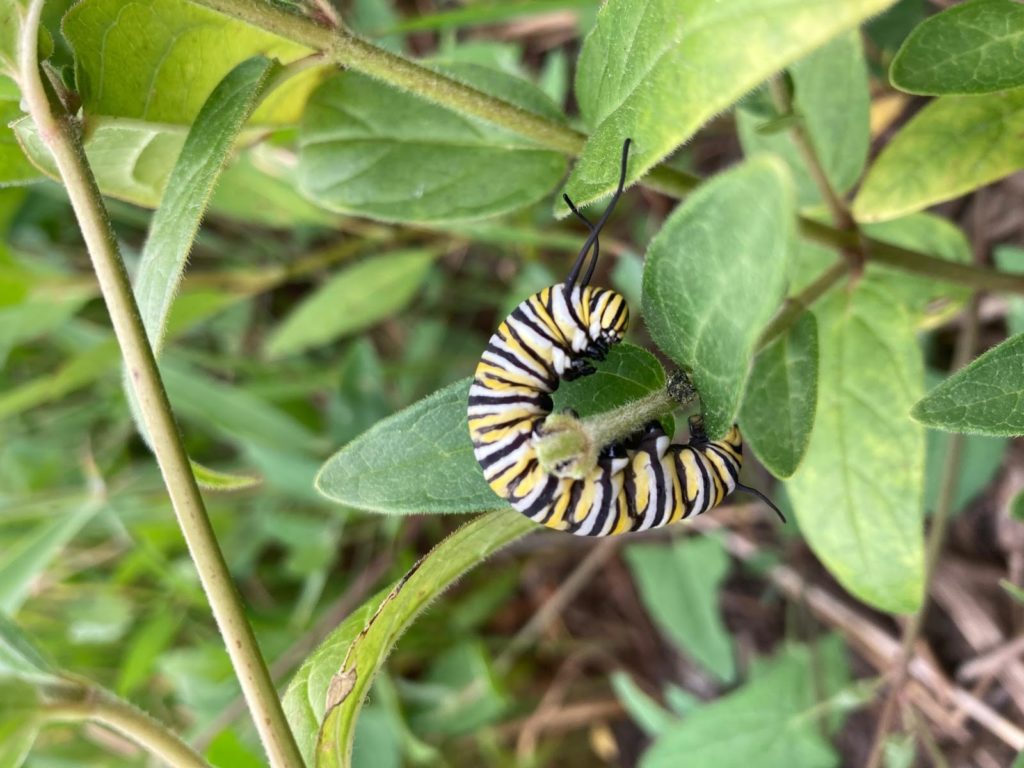 A monarch butterfly caterpillar making use of a freshly planted specimen of swamp milkweed on Thompson Island. Even small plantings such as these within the span of a few months can create ecosystem services that foster greater native biodiversity.