An Early Attempt to Reforest the Boston Harbor Islands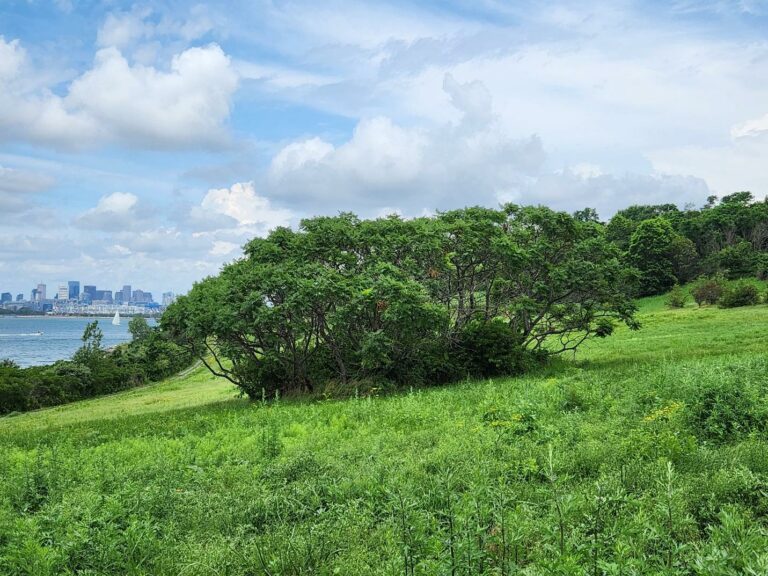 Since Boston Harbor was colonized by Europeans 400 years ago, the face of the harbor islands has changed dramatically. Clear-cutting forests for lumber, clearing land for agriculture, and mineral extraction have all contributed to decimating the local flora that once defined these lands the indigenous Massachusett people long referred to as a paradise. And these examples pale in comparison to the devastation that industry has wrought on Spectacle Island since the mid-1800s. Thankfully, Spectacle Island has since been transformed into a pleasant park space with five miles of trails, a swimming beach, and pockets of wooded spaces that help shelter local birds, deer, and coyote. Spectacle Island is often seen as a monumental success in the world of environmental remediation, but it is not the first attempt people have made to restore the natural environment of the Boston Harbor Islands since the colonial era.
In 1878, the city of Boston hired Frederick Law Olmsted, America's father of landscape architecture. He was to design a 7-mile-long stretch of park space that is now known as the Emerald Necklace. After years of living in eastern Massachusetts, Olmsted's heart turned toward the harbor islands, severely redefined by human alteration, and saw a green future for them. 
In 1887, Olmsted submitted a report to the Boston Board of Park Commissioners regarding a plan to reforest the Boston Harbor Islands. He argued the recreational potential of this space and envisioned a Boston more closely integrated with its waterfront in a manner that rivaled the floating city of Venice. Olmsted's plan involved utilizing natural succession patterns of forests—first planting reliable, fast-growing species like Birch that would create a protected growing space for more sensitive species like Beech or Hemlock. Unfortunately, in 1893, the Park Commissioners refused to provide the landscape architect with the funds he requested to realize his dreams. The city of Boston was not yet ready to acknowledge the aesthetic appeal of the islands over its potential for human use.  
Olmsted's plan was significant because it stood as a departure from how he normally designed park spaces. Rather than create a structured and manufactured space for green recreation found in most city parks, Olmsted's goal was to return the islands to their previous forest cover. This idea is a challenging one, as in the modern day, all that park scientists know about the pre-colonial forest cover of the islands comes from charcoal samples—indicating a presence of species like Oak, Hickory, Pine, and more but lacking a thorough understanding of how prevalent each species was. Regardless, his ideas were well-grounded in the natural processes of forest ecology.
Frederick Law Olmsted's vision for the harbor islands remains in part today. He designed a residential area near Hingham on the south shore known as World's End, now one of the 34 islands and peninsulas protected by Boston Harbor Islands National and State Park. One hopes Olmsted would be proud of the park that protects these special places today.
References
(1) clr-v1.pdf (npshistory.com)
(2) Frederick Law Olmsted – The Emerald Necklace Conservancy.