City Nature Challenge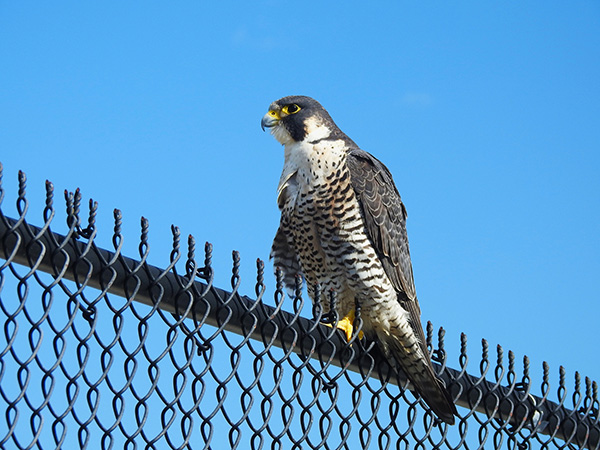 Image courtesy of dalien on iNaturalist
A photo of a Peregrine Falcon perched on a chain-link fence against a blue sky
By: Rachel Vincent, Biological Science Technician at Boston Harbor Islands National and State Park
The City Nature Challenge is back, and we need you to help!
No matter where you are, nature is all around you. The mostly unloved "weeds" growing out of sidewalk cracks, the intrusive ants in your kitchen, the pigeons flying overhead, the vagrant squirrels searching for food, and of course in the old oak tree in the park down the road. The annual City Nature Challenge, or CNC, is a way to observe and document that nature that exists around you.
The CNC is a worldwide effort to document wild nature in and around urban-centered areas. It's a reminder that you don't need to go "away" to find nature but can find it right where you are. The CNC takes place in two parts…
Observation and documentation
In a 4-day period at the end of April, we're asking you explore nature around you and upload your observations to the iNaturalist platform. This activity is referred to as a bioblitz– an activity where people document the diversity of life in a certain area during a specific period of time! For the CNC, we have a large Greater Boston Area boundary, and are collecting observations from April 29- May 2, 2022.
Identification
After the first four days of observation, there is an identification period from May 3- May 8. At this point, you and anyone else from around the world can go into iNaturalist and help identify what was observed! This is a really important part of the CNC, as it helps define what observers actually found. Even if you aren't confident in a species identification, it's helpful to identify things labeled as "unknown" to "plant" or "animal" for example. Or, if you're confident about identifying some species, consider taking some time out of your week to look through the Boston Area 2022 CNC project and share your knowledge in early May!
Where it started, where it's going
What started in 2016 as a competition between San Francisco and Los Angeles with around 1000 people has turned into an annual international event engaging over 52,000 people across 44 countries in 2021. As a Boston Area, we jumped into the excitement in 2017 and haven't stopped having fun since! In 2021, 1,800 people uploaded a total of 24,575 observations in the Greater Boston Area, and we identified 2,055 unique species! This year, we need YOU to help us reach the next level. We want 2,100 observers to capture 27,000 observations, and we hope to identify 2,200 species!
Get involved!
Join us for the Greater Boston Area 2022 City Nature Challenge and watch the numbers grow as we discover the wild natural world together. Make observations from April 29- May 2 and make identifications from May 3- May 8. Visit the Boston Area City Nature Challenge Website here (https://www.zoonewengland.org/citynaturechallenge) to learn more, stay tuned for a "What is the CNC 2022?" video on social media, and join our project on iNaturalist here (https://www.inaturalist.org/projects/city-nature-challenge-2022-boston-area). To learn more about the global CNC effort, go here (https://citynaturechallenge.org/). You can learn how to use iNaturalist with this helpful tutorial (https://www.youtube.com/watch?v=eHvdxpBNggM)