Winter Wild: A Virtual Exploration
Join us for a virtual festival featuring talks & tips focused on education and conservation of Boston Harbor's wildlife!
Boston Harbor Islands National and State Park and our partners are pleased to present Winter Wild, a day-long virtual festival for all ages!
Join us for talks & tips focused on education, conservation, and exploration of Boston Harbor & its wildlife. Attend as few or as many programs as you'd like throughout the day. Full presentation schedule below.
To continue making meaningful programs like Winter Wild possible, please consider supporting Boston Harbor Now. A $15 donation is suggested, but every dollar counts and is very much appreciated!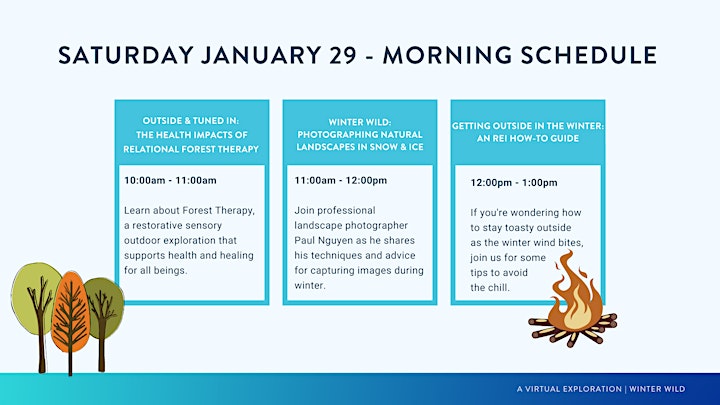 10:00am – 11:00am — Outside & Tuned In: The Health Impacts Of Relational Forest Therapy — Forest Therapy is part of a global effort to tend to the stressful conditions of living in modern industrialized civilization. Over the past few decades, there has been extensive research done to measure and gather data demonstrating the various impacts of nature on human health and the importance of understanding the interconnectedness of life. From increased cerebral blood flow to stronger immune defenses, join certified forest therapy guide & founder of Toadstool Walks Tam Willey (they/them) to discover what happens when we unplug, slow down, and open our senses to notice more of our natural surroundings.
11:00am – 12:00pm — Winter Wild: Photographing Natural Landscapes in Snow and Ice — Just because freezing temperatures and icy conditions have arrived doesn't mean that outdoor photography comes to a halt. Some of the most rewarding light and weather can be found during winter. The challenge is knowing how to properly capture it to create compelling photographs. Join professional landscape photographer Paul Nguyen as he shares his techniques and composition advice for capturing stunning photos in wintry conditions.
12:00pm – 1:00pm — Getting Outside in the Winter: An REI How-to Guide — The right clothes and equipment make a huge difference in staying comfortable outside in the winter, and knowing how to properly utilize what you have will take you that extra mile. Don't let the wind chill prevent you from getting outside! Join REI Instructor Andrew McCaughey to learn about the differences in fabrics, how to layer appropriately, keeping your extremities protected, and how to safely mitigate heat loss.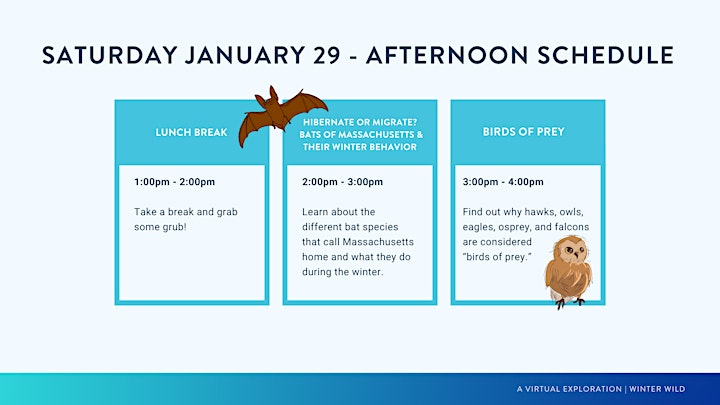 1:00pm – 2:00pm — Lunch Break
2:00pm – 3:00pm — Hibernate or Migrate? Bats of Massachusetts and their Winter Behavior — Learn about the different bats that live in Massachusetts and where they go during the winter. Join Elise Stanmyer, a bat conservation biologist with the Massachusetts Department of Conservation and Recreation, to discover where and how bats hibernate or migrate and about current threats bats face in Massachusetts, including white-nose syndrome.
3:00pm – 4:00pm — Birds of Prey — Find out why hawks, owls, eagles, osprey, and falcons are considered "birds of prey", and discover their amazing diversity while meeting three birds of prey native to Massachusetts. Kathleen A. Regan, Teacher Naturalist at Mass Audubon's Blue Hills Trailside Museum, will share some tips on how, when, and where you can view our non-migratory resident species during winter. There are many more out there than you may think!
This program is presented as part of the commemoration of the 25th anniversary of Boston Harbor Islands National Park, and the 50th anniversary of Boston Harbor Islands State Park.