Winter Wildlife Cruise
"Thank you to all visitors and volunteers who were able to join us for a Winter Wildlife Cruise on January 21st!  We were so excited to host the first in-person cruise since 2020 after two years of virtual programming. Our mighty birders on the boat kept careful track of wildlife seen throughout the trip and counted 29 different bird species- a great reminder that winter is a great time for spotting waterbirds in the Boston Harbor! Unfortunately, the fan-favorite snow owls were not spotted from the boat this year, but we can look forward to next year. We subsequently discovered that our snowy owls were tucked in-between a couple of runways at the airport, hidden from our vantage point on the water. Hopefully they will be a little less shy next year!
More than 250 birders and bird enthusiasts joined us on one of the New England Aquariums Whale Watch Catamarans. Experts from the Stone Living Lab and Mass Audubon provided in depth commentary on the health of the harbor and the species living here and visiting for the winter.  Our boat captain got us up close and personal on the rolling waves that left more than a few on the queasy side. Despite it all, our expert spotters were able to literally pick out dozens of birds (most of them black and white) on the waves, in the air and just hanging out on the rocky outcrops. Most impressive.
One of the most common species seen was the common eider, a male common eider pictured here: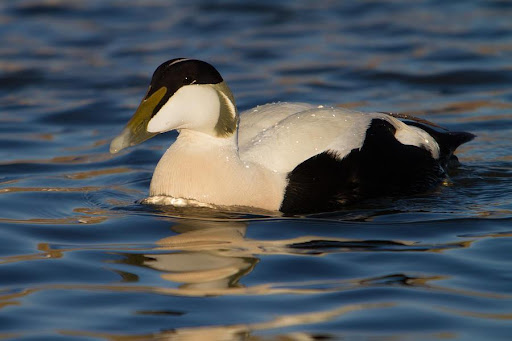 This species also nests on various Boston Harbor Islands in the spring!  Of the 29 species spotted, the eider was the most common with at least 150 sighted! 
If you want to see the full species list, you can find the checklist on eBird put together by volunteer spotters via the link in our story."
eBird checklist here: https://ebird.org/checklist/S126664759