Women of Boston Harbor Islands: Inez Haynes Gillmore (Irwin)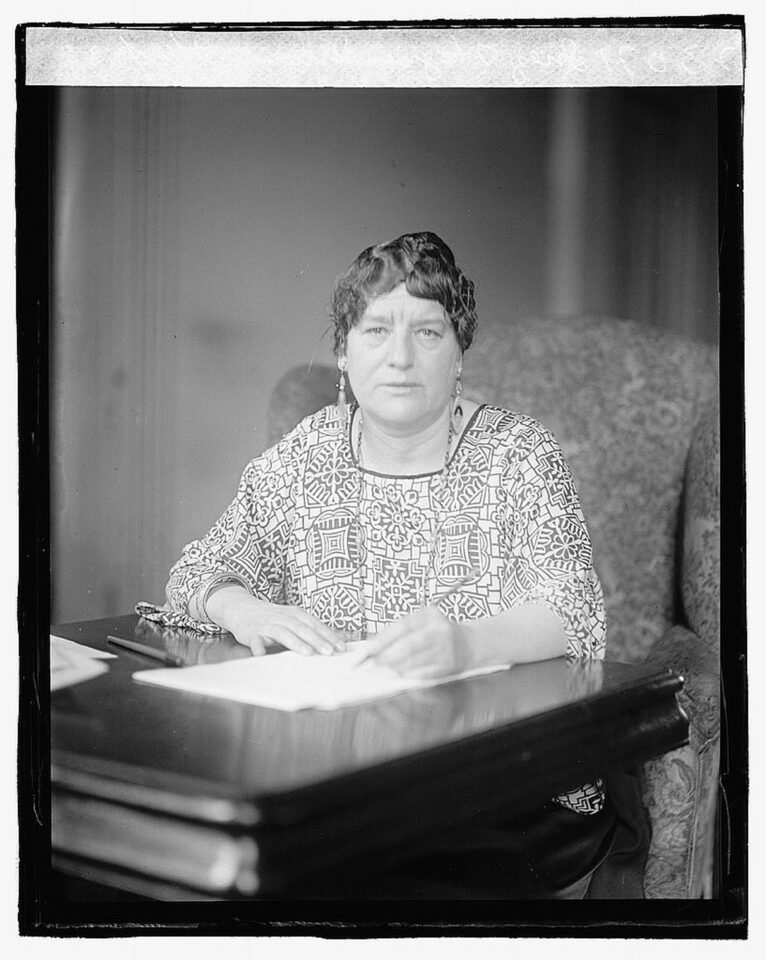 Inez Haynes Gillmore, 1923
Image credit: Library of Congress
When thinking of the women's suffrage movement in Boston, one is often drawn to influential women like Lucy Stone, Maria Baldwin, and Sarah Josepha Hale. A woman who is recalled less often is Inez Haynes Gillmore. Born in Brazil in 1873, Inez spent most of her childhood in Boston and attended Radcliffe College between 1897 and 1900. It was here that Inez became familiar with and a leader within the women's suffrage movement. She was a co-founder of the College Equal Suffrage League at Radcliffe in 1900, with the goal of introducing younger women to the suffrage movement. This organization was so successful that it spread to colleges and high schools across the nation, giving many women like Louise Bryant, Maria de Lopez, and Caroline Lexow Babcock a start to their careers in activism. Later, Inez would serve on the advisory council of the National Women's Party, publishing a nonfiction account of the organization, The Story of the Woman's Party, in 1921.
A key component to Inez's activism was her talent for writing. A prolific author, Inez wrote both fiction and nonfiction, novels, magazine articles, and even children's books. Throughout her writing, Inez had a connecting thread of feminist ideals, and often of geographic and metaphorical isolation similar to that of the islands in Boston Harbor—a connection that, in some cases, is quite intentional, as Inez lived in both Boston and Scituate and was clearly familiar with the islands, although it is unclear whether she ever visited them.
Gillmore's popular children's series, Maida's Little Shop, follows the adventures of a large group of children in the Boston area in the early 1900s. Published in 1921, Maida's Little House is the first book in the series to directly reference the Boston Harbor Islands. Maida tells her friends all about 'Spectacles Island,' which she prefers to call "Tom Tiddler's Ground." Though it is discussed in Little House, the children do not venture to Spectacle(s) Island until the publication of Maida's Little Island in 1939. In each book, no matter the geographic location, the children experience a large degree of isolation from adults, thus having the independence to set the rules and norms of their small world. Gillmore uses this separation to explore ideas of freedom, health, gender norms, and camaraderie. This can also be seen in her novel, Angel Island.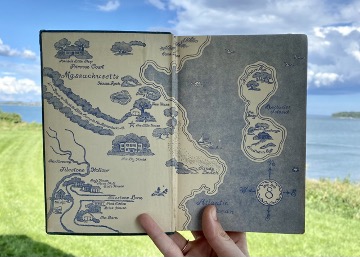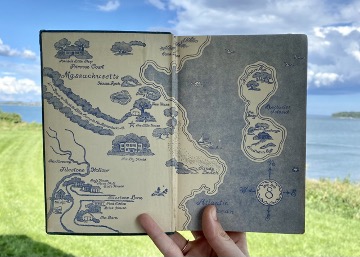 Map at the front of Maida's Little House showing Spectacles Island (right).
Image Credit: NPS/Parnell
First published in 1914, Angel Island is an early American example of feminist writing through the genre of science fiction. The story follows a group of men who are shipwrecked on an island devoid of human life. However, they are frequently visited by beautiful, winged women who come and go to the island as they please. Eventually, the men trick the women and capture them, clipping their wings so that they cannot escape. Once the women are under the men's control, the men grow bored of them and set off across the island every day, leaving the women—now their wives—alone with their children. What they don't realize, is that while they are gone every day, the women were developing a plan to stand up for themselves and their children, even without their wings. In the end they come to a compromise with the women remaining on the island, but the men no longer clipping their wings or those of their children. The role of the men in the story is a clear reflection on patriarchy, power, and the rationalization of violence. The role of the women seems to be a call to action for women to fight back, if not for themselves, then for their children. Though many of the ideals conveyed in this piece are not reflective of 21st century feminism, it is still an important look at the early days of the movement and the thoughts of women—like Inez Haynes Gillmore—who led the way to women's suffrage in the United States.
References
Gillmore, Inez Haynes. 1872. Papers of Inez Haynes Gillmore, 1872-1945.
Gillmore, Inez Haynes. Angel Island. Henry Holt, 1914.
Gillmore, Inez Haynes. Maidas Little House. Kessinger, 1921.
Gillmore, Inez Haynes. Maidas Little Island. New York: Grosset & Dunlap Publishers, 1939.
Inez Haynes Irwin, 3/16/23. , 1923. Photograph. https://www.loc.gov/item/2016834354/.
Marino, Kelly. "Students, Suffrage, and Political Change: The College Equal Suffrage League and Campus Campaigns for Women's Right to Vote, 1905–1920." The Journal of the Gilded Age and Progressive Era 20, no. 3 (2021): 370–91. doi:10.1017/S1537781421000128.