Boston Harbor's Most Visited Former Island: Governors Island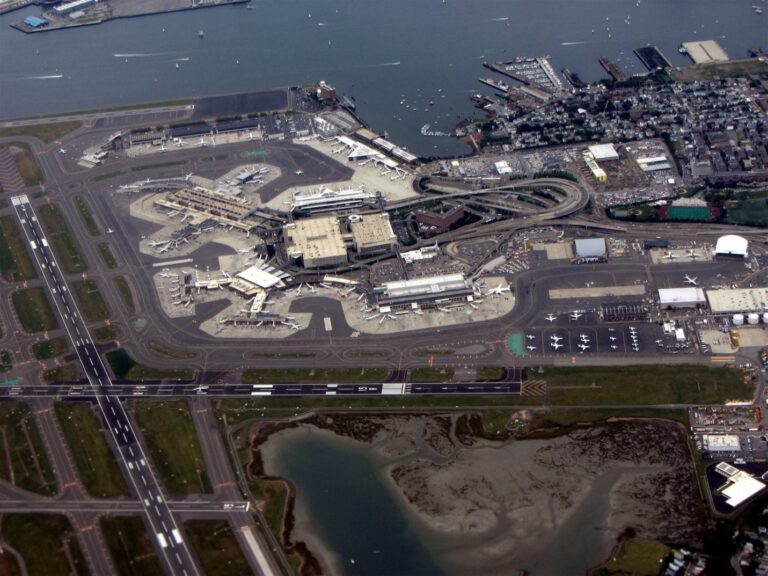 Every year, over 30 million people from all over the world visit Governors Island in Boston Harbor. Unfortunately for park statistics, Governors Island is not a part of Boston Harbor Islands National and State Park—it was buried under Logan International Airport in the 1940s. Many airline customers are unlikely to know what rests beneath the tarmac and there are no rangers telling stories to travelers rushing through the terminals. Even so, the significance of Boston's history that can be found on Governors Island is still something not to forget.
Though much of the pre-colonial indigenous practices across Boston Harbor have been recovered, modern sources lack detail on Governors Island specifically. The 72-acre island's first European name was Conant's Island, named in the 1620s after Hull citizen Roger Conant. Soon after, though, the Massachusetts Bay Colony gave the island to John Winthrop, renaming it Governors Island. The colony offered said ownership to Winthrop's heirs with a yearly rent in the amount of 1/5th the fruit harvest that would soon come from Winthrop's orchard. When a vineyard was planted alongside the orchard, the rent was amended to include a yearly supply of wine — though, apparently, the vineyard did so poorly that the rent was amended yet another time to say, "We'll just take the apples." 
Governors Island did remain in the holdings of the Winthrop family until 1846, but small sections of it had been purchased piece by piece by the government throughout the prior century. What started as a block house and two-gun battery in 1744 eventually became an four-pointed star fort constructed of stone in the early 1800s. The fort was first called Fort Warren after Joseph Warren, a doctor and general who was killed in the Battle of Bunker Hill. The name Fort Warren was later transferred to a fort constructed on Georges Island in 1830s, but the military installation on Governors received the appropriate new title of Fort Winthrop. 
Fort Winthrop saw little activity over the next century. It garrisoned a skeleton crew and served as a graveyard for soldiers who came from Fort Warren on Georges Island and Fort Independence on Castle Island. Then, in the early 1900s, the War Department gave Boston permission to convert Governors Island into park space and improvement work began in 1912. Yet, Boston's first airfield opened in nearby East Boston in 1923, and throughout the 1930s, it was eager to expand over Governors Island. At this time, writer Edward Rowe Snow — whose books and boat tours brought mass tourist appeal to Boston Harbor to begin with — began to lead frequent excursions to Governors Island to explore the remnants of Fort Winthrop and speak of the island's history. Finally, these excursions were forced to conclude in 1946 when Logan International Airport fully claimed Governors Island.
Arguably, losing this historical resource is what so motivated Snow to campaign for the preservation of Fort Warren on Georges Island as well as the 30 other islands now protected by our national and state park.
https://www.google.com/books/edition/The_Islands_of_Boston_Harbor/-oNCNoMuwjgC?hl=en&gbpv=1&printsec=frontcover
https://www.massport.com/logan-airport/about-logan/airport-statistics/